Ballpoint Pen VS Rollerball Pen
Ballpoint pens and roller pens are two very common pens in our daily life. When comparing ballpoint pens and roller pens together, writing ink is something worth noting.
Ballpoint ink is favoured by so many because the ink helps write smoothly and dry quickly, which is an ideal option for official forms. Rollerball ink also has its own advantages: the water or gel-based ink helps writing sharper and more vibrant, which is a great choice for letter writing, scrapbooking invitations, and similar 'formal' or creative writing forms.
What Is Ballpoint Pen?
A ballpoint pen is a pen that distributes oil-based ink onto a metal ball at the tip of the pen that rotates to dispense the ink onto a writing surface. A ballpoint pen is also called a ball pen, biro, and dot pen, which consists of a barrel, cap, thrust tube, refill, and spring. The ball acts as a carrier as the pen moves and cycles ink out of the ballpoint tip. Ballpoint ink is special because it is a thicker, quick-drying ink that is made with oil instead of water. Disposable ballpoint pens and refillable ballpoint ballpen are two types of ballpoint pens that come in a variety of prices.
What Is Roller Pen?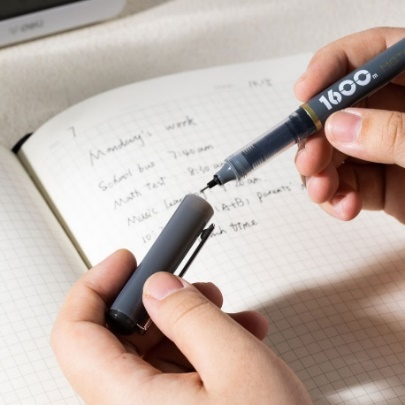 A rollerball pen combines aspects of both the fountain pen and the ballpoint pen in one simple design. You'll get that silky smooth writing experience of a fountain pen with the convenience of a ballpoint. The "ballpoint-fountain pen"also uses a small rotating ball in the tip of the pen to dispense ink onto your paper when you're writing. Rollerball pens produce a strong line due to the ink types in use and the advent of gel inks has allowed for an almost endless range of colors and styles because of the wide variety of water-soluble dyes and capacity for heavier pigments. If you are interested in wholesale roller pen, here we recommend you deli roller pen think.
Difference Between Rollerball and Ballpoint Pen?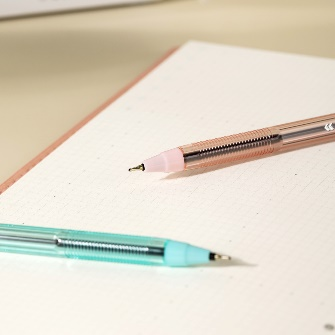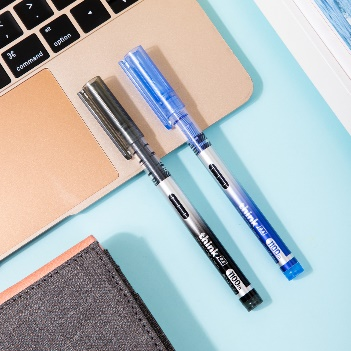 Ballpoint pen Rollerball pen



Ink

Body

Writing




Ballpoint pen




Oil-based

twist mechanism or

a click mechanism

1. The rollerball pen writes a darker, finer line.

2. Roller pen causes negligible bleed onto the back of the paper while the ballpoint pen causes no bleed.




Rollerball pen




Water-based




Generally have a cap
Ballpoint Pen Rollerball Pen
Pros:

Ink is suitable for use on official documents

Ink does not bleed through the paper

Ink tends to dry almost instantly avoiding smudges

Body style/mechanism means the pen can be used one-handed

Comes out slower so the ink cartridge lasts longer

Is less expensive

Pros:

Consistent ink flow, less skipping

Less pressure needed means less hand fatigue and quicker writing

Wider range of colors with water-soluble dyes

Clearer line

Cons:

The ink can feel thick and sticky

If left for a long time can be difficult to get the pen to write again

Big blobs of ink will take a long time to dry and will leave big smudges if you try to wipe them away

Cons:

Refill is more prone to drying

Shorter refill life even when stored properly

Ink can smudge fairly easily in the moments after writing
Conclusion: Overall, the difference between the ballpoint and rollerball all comes down to the ink. Ballpoint pens boast a thicker fatty acid-based ink while rollerball pens boast a thinner, liquid ink that more closely resembles fountain pen ink. A ballpoint pen is more suitable for official forms because they don't tend to bleed through paper and they dry quickly. Rollerball pens are well suited to letter writing, scrapbooking, invitations, and similar 'formal' or creative writing forms because they produce thicker and more vivid lines than 'pop'. Ballpoint pens are for those who enjoy a scratchier hand feel whereas rollerball pens have a smoother glide which can be favorable to those who experience hand cramps as they require less pressure. The buyer should focus on user experience and the level of strength of the rollerball pen or ballpoint pen manufacturers when making purchases.