At the beginning of the New Year, as a world-renowned cultural and creative technology industry group, Deli announced its brand ambassador in Indonesia——AGNEZ MO, one of the most influential singers, songwriters, dancers, and actresses in Indonesia. On February 18, the first cooperation video between Deli & AGNEZ MO Deli, My Success Friend was officially released. The exclusive AGNEZ MO series stationery products were launched online and offline to give a new product experience to local consumers and also enhance Deli's brand influence in Indonesia and Southeast Asia. The brand building of Deli in Indonesia is not only an important measure to accelerate its globalization strategy, but also shows the confidence and determination of Chinese brand to expand overseas markets.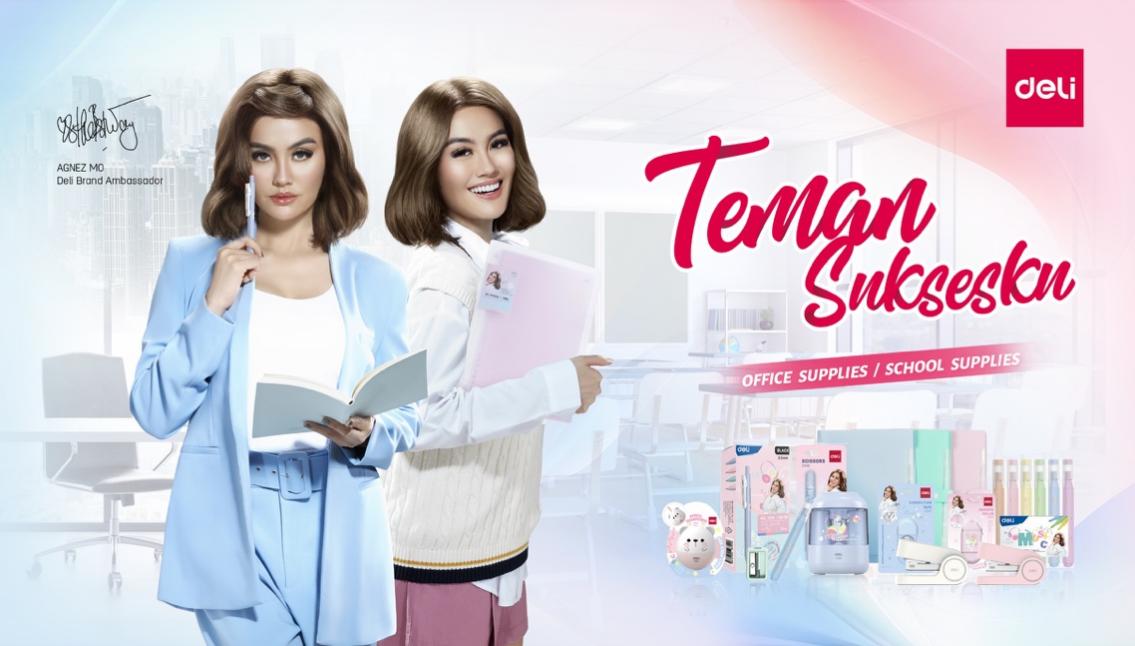 Established in 1981, Deli Group has been the No. 1 in China's cultural and educational industry for many years. Since 1998, it has started its internationalization process. Its products have been sold to more than 130 countries and regions, and it has become a local leader in many markets such as Vietnam, Morocco, and the United Arab Emirates. In order to better serve Indonesian consumers, Deli Group established the Deli Indonesia branch five years ago. There are more than 12,000 kinds of products, which fully meet the rich and diverse individual needs of consumers.
Adhering to the concept of "developing products and services that meet the needs", Deli has gradually become a good partner for Indonesian consumers in daily study and work, accompanying children's creativity and wisdom development, students' academic growth, and adults' career and success. This time, Deli Indonesia signed the multi-talented, energetic, and internationally influential Indonesian legendary star AGNEZ MO as the brand ambassador, which is a great move to further shorten the distance with local consumers. AGNEZ MO is a singer, actor, dancer, host, and composer. She has won 194 awards for more than 20 years in the industry. She is the singer with the most awards in Indonesia. AGNEZ MO fits well with the strategy of Deli which is the continuous diversification of product categories, continuous innovation, and striving to create beautiful products and serve global users.
The "My Success Friend" TVC jointly created by Deli and AGNEZ MO deeply interprets Deli's brand value proposition. AGNEZ MO said frankly that Deli makes inspiration more colorful and makes work more efficient. She is very happy to be accompanied by Deli every time she creates a new creation. At the same time, on February 18, Deli Indonesia officially launched the exclusive product - AGNEZ MO series, including crayons, pencils, and sharpeners for students, as well as display books, staplers, etc. for office use. The series of products will be sold on Indonesian e-commerce sites such as Shopee and Tokopedia, as well as several national supermarket and stationery stores. The cooperation with AGNEZ MO will further enhance the popularity and favorability of Deli in Indonesia, and the continuous innovation of products will also help the brand to better develop in the Indonesian market.
As the earliest system for overseas markets in the industry, from Southeast Asia, the Middle East, and Northern Africa, to Eastern Europe, Western Europe, and North America, in recent years, Deli has been steadily promoting the process of globalization. At present, Deli has set up 11 regional marketing headquarters and 22 overseas branches worldwide and has deployed cross-border e-commerce platforms such as Amazon, Shopee, Lazada, Wildberries, and overseas sales have grown rapidly. The measures that deeply cultivate the Indonesian market will further promote the brand in the Indonesian.
With the upgrading and transformation of Deli from stationery to cultural and creative technology, the product categories sold by Deli in the international market have gradually expanded from stationery to tools, printers, and other categories that incorporate more sophisticated technologies. As a representative of Chinese manufacturing going overseas, Deli has 6 major production bases and 7 innovative R&D centers around the world. Deli's internationalization has entered the globalization based on localization. The new stage of globalization development has demonstrated the strength of the Chinese brand. In 2023, Deli globalization strategy is accelerating with the beginning of Indonesia, confirming the mission of "To develop products and services that meet the needs, exceeding the expectation of customers across the globe".