Gel pen refills are a very common category in the stationery industry. Compared with using a new pen after finishing a pen, gel pen refills have unique advantages. This article will focus on the category of gel pen refills.
What is a Refill for Pens?
Gel pen refills typically use water-based inks that contain thickeners to keep heavier pigments in suspension. As a result, gel pen refills produce ink that is more opaque and performs better on darker surfaces than other water-based inks. Compared with ballpoint pens, the ink of gel pens dries faster and is less likely to smudge the paper when writing. Generally, gel refills for pens have a certain standard shape, which can fit most pens with different shells.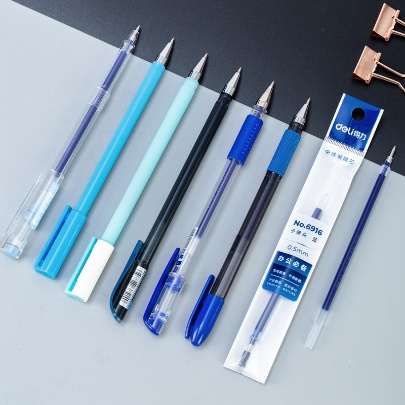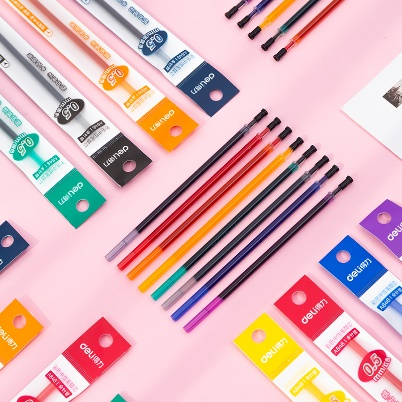 Types of Pen Refills
Gel pen refills come in many shapes and sizes. Some of these are standard, which can be used by several pen brands and pen designs over decades, while others are special and limited to a few brands or even a few pen shell models.
Most gel pen refills comply with ISO standard 12757 and the latest revision ISO 12757-1:2017 developed by the International Organization for Standardization. Of course, custom and special refills are certainly not illegal. However, if you're manufacturing a certain refill type, it's better to have your gel pen refills the same size as other manufacturers reasonably.
Benefits of Interchangeable Refills for Pens
Now that we are talking about gel pen refills, we have to discuss the benefits of using gel pen refills compared to using new pens directly.
Using gel pen refills has huge environmental benefits. Due to the use of new pens, old pens can only be disposed of, and a large amount of garbage will be generated. Since most single-use pens on the market are made of plastic, refills can reduce the amount of non-biodegradable plastic that ends up in landfills.
Using refills can also help you save money. At present, most brands in the market are producing their pens, and the price of buying a pen is higher than that of the same type of refill, so using refills can help users save money.
How to Find the Right Pen Refill
Choosing the right gel pen refill can greatly improve your writing experience, so how to find the right refill? First of all, facing the pen you want to replace, you need to judge what type of pen it is, and whether different types of pens are suitable for different refills. Usually, this information you can find on the outside and inside of the pen. Then when you determine the type of your pen, you can search online to find the corresponding suitable refill to buy, and deli group co ltd China is one great option for you.
How to Refill a Gel Pen
After finding the right gel pen refill, we can change it directly, which is a very quick and easy thing to do. Find the opening and closing part of the pen head, insert the refill after disassembly, tighten the pen head, and you can start using it immediately.
Generally speaking, gel pen refills are very worth buying stationery, very cost-effective, more environmentally friendly, and very convenient to use. As a leading brand in China's stationery industry, Deli Group provides high-quality gel pen refill products for global consumers. You are very welcome to choose and watch on our homepage!